Turkey Hunting & InsectXtreme®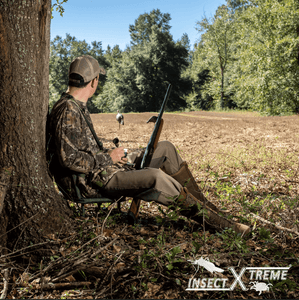 In January and February, hunters are cleaning their guns and going over their gear, warmed by a crackling fireplace and dreams of "the big one" still out in the woods.
Soon the weather and seasons will change.
Wild turkey season opens in the spring with hunters planning to find a sturdy tree to sit against, the best call to use and to sit as still as possible as that prize gobbler approaches.
Wild turkeys are known for their keen eyesight and will quickly run away if a hunter is spotted. Camouflage and stillness are primary considerations.
Sitting perfectly still can be an experience in itself, especially if mosquitoes, no-see-ums or ticks discover you. The hunter becomes the hunted.
Besides the pain, itching and swelling of nuisance bites, insects can cause infection, illness and even death.
According to the World Health Organization (WHO), "Mosquitoes are one of the deadliest animals in the world. Their ability to carry and spread disease to humans causes millions of deaths every year."
The Centers for Disease Control and Prevention (CDC) reports, "Tickborne diseases increasingly threaten the health of people in the United States. The growing threat includes newly discovered disease-causing germs, an increasing number of reported tickborne illnesses, expanding geographic ranges for ticks, and a novel tick species found in the US. New tools for preventing tickborne diseases are urgently needed, and everyone should take steps to help protect themselves from tick bites."
That is when InsectXtreme® hunting gear becomes necessary for comfort and protection.
InsectXtreme®, by Anovotek®, uses a proprietary technology which contains insect repellent and other features designed to reduce insect biting. Reducing insect biting reduces nuisance bites and can also reduce insect transmitted diseases that are spread through insect bites.
Anovotek believes "Enjoying the great outdoors is your passion. Helping make it more enjoyable is ours."
Anovotek is a science and technology-based business in Barnwell, S.C., which provides innovative solutions that improve everyday life. Anovotek is a global leader in integrating performance materials into textiles, polymers and other products.  Built on a foundation of integrity, Anovotek® serves customers through innovative products, materials and services.
InsectXtreme® products are infused with insect repellent technology in Anovotek® facilities in the USA.   The Skintex MRIII® EPA-registered repellent technology is durable through 50 washes.
InsectXtreme® repellent technology – powered by Skintex MRIII® - uses a proprietary approach to create microscopic reservoirs of repellent that is released over time. InsectXtreme® repellent can be applied to garments, socks and other apparel, ground covers, hunting and fishing products and accessories, camping/hiking outdoor sports and leisure products, military/police/tactical products, equine and other animal products and public health products for personal protection.